Post by Stingray™ on Oct 2, 2007 16:23:20 GMT -5
This is the introduction of a possible 3rd season of American dragon. With the art changed back to the classic style.
In this episode, Jake travels to Tajikistan and discoveres that a small village is under siege by a small paramilitary air unit, and Jake is the only one to protect the villagers.
Here is an example of one of the scenes:
Fred Nerk: Jake, I have a bad feeling here, mate.
Jake: Its fine. It looks like a normal village to me.
Nerk: No, its not the village. Somethings gonna happen. Im not sure what.
Rose: Relax. Its our first time in a hostile country. Even my nerves are shaking.
Nerk: Your right. Im fine now. Im gonna get something to eat. Want anything?
Jake: No, Im good.
ROSE: No thanks.
Nerk: Okay.
>>>>Jake and Rose sat quietly until he heard a villager shout>>>
Villager: Incoming aircraft!!!
Jake:look! An Mi-24 and a Gazelle!
Villager: Take cover!
>>>>The helicopters flew over,destroying buildings and implacements with their unguided rockets and armor-piercing bullets. Villagers on horses fired their AK-47s at the monsterous helicopter gunships>>>
Jake: Nerk, Im gonna see if I can get to that AA gun. Cover me!
Nerk: But jake! Wait!
>>>>Jake ran to the large AA gun, dodging all the rockets and bullets that whirred by>>>
Jake: Man! These desert rocks are sharp!
>>>>Jake got to the AA gun, c*cked it, and began to fire at the Gazelle>>>
Gazelle pilot: Over there! That AA gun! Right rear! Take it out!!
Door gunner: Rodger that, fireing at will.
>>>>Jake shot the Gazelle in the engine several times untill it exploded...the pilots jumped out with parashutes before that...Jake hid between some rocks and waited for the Mi-24 to make another pass. The Mi-24 stopped, moved around, and took off tward the mountains and dissapeared.>>>
Jake : Wow! This is pretty cool!
Villager : Well, this is what it is like here. It is a place of war. You dont want any more of this. Trust me.
Jake: No. These men attacked an innocent village. There not gonna get away with that!
Villager: So, you really want to stay? Okay. You did do pretty good with that little helicopter.
Jake: Yah, but now its time to hit 'em where it hirts!
>>>>End of scene.
Those who dont know what a Gazelle or Mi-24 looks like, here are some pics:
Aerospatiale SA.341/342 Gazelle: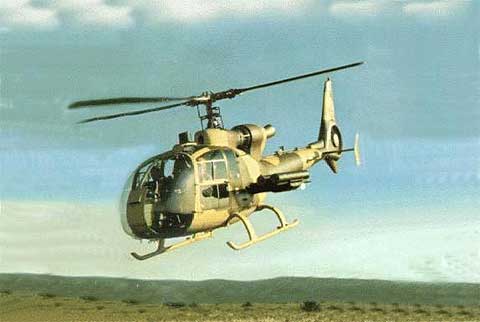 Old Mil Mi-24 Hind-A:
Newer Mil Mi-24 Hind-F: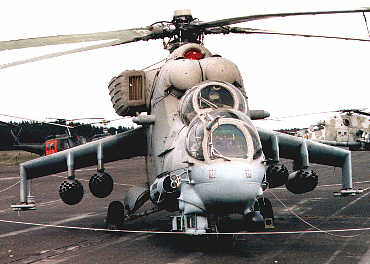 Cool or what!

Now just imagine Jake getting chased by these monsters!